26.04.2022.
Aluflexpack Group on Vienna City Marathon 2022
Aluflexpack Group employees from 7 countries participated in the 39th edition of the Vienna City Marathon held on April 24th 2022.
The Vienna City Marathon is Austria's biggest running event and a World Athletics Label Road Race gathering more than 32.000 participants. Being a part of the Montana Tech Components family, we again had an opportunity to be a part of this unique event in the historical city of Vienna.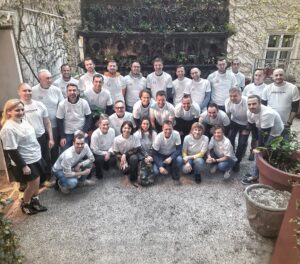 We are happy that 28 Aluflexpack Group employees participated and all of them reached the finish line and pushed their limits. Our CEO Johannes Steurer participated in this year's event as a support to our team from Arimpeks and CFO Lukas Kothbauer finished the half-marathon course. We want to congratulate all our teams for finishing the race and team Eliopack on the best result of 03:05:48. After the race, we all gathered to socialise and share a meal before spending time exploring Vienna.
Our employees showed commitment and dedication to achieve the best results just like they do in their daily work. All of that wouldn't be possible without strong team spirit and a bit of sports competitiveness between colleagues. Running isn't easy but it is surely more fun when you can rely on support from friends and colleagues!
We are very happy and proud of our employee's great results at Vienna City Marathon 2022, and we invite our colleagues to join us next year!