19.04.2023.
Our latest innovation – Recyclable monomaterial PP spouted pouch
We are proud to present our latest innovation: the recyclable mono PP spouted pouch! Designed without aluminium, it is one of the first pre-made spouted pouches that is "ready for recycling"!
Simultaneously, it offers a very high oxygen and water vapour barrier, making it suitable for shelf-stable products that undergo hot-filling and pasteurisation (such as baby food and fruit puree), and cold-filled or dairy applications.
Using our innovation, brands can now offer their consumers an eco-friendlier packaging, that can be recycled as plastic. We advise brands to clearly communicate recycling instructions to the public, using the recycling triangle on their packaging to help consumers know that their pouches can go into the plastics bin and have a second life.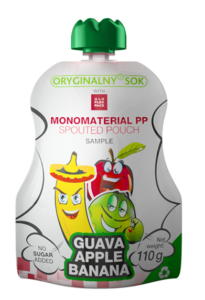 Flexible packaging made of mono-materials for sustainable end-product packaging has emerged as an important and attractive alternative for many end products and applications.
Our R&D and innovation team is constantly working on the development of more sustainable and recyclable packaging for a wide range of packaging solutions.
Our latest innovation as well as other sustainable and practical solutions will be presented for the first time on the world's leading trade fair Interpack in Düsseldorf, Germany from May 4-10, 2023.
Meet us in person in Hall 9, 9A02/C01!
Click to find out more about...